SalesTech Interview with Fred Studer, CMO at FinancialForce, a Salesforce Partner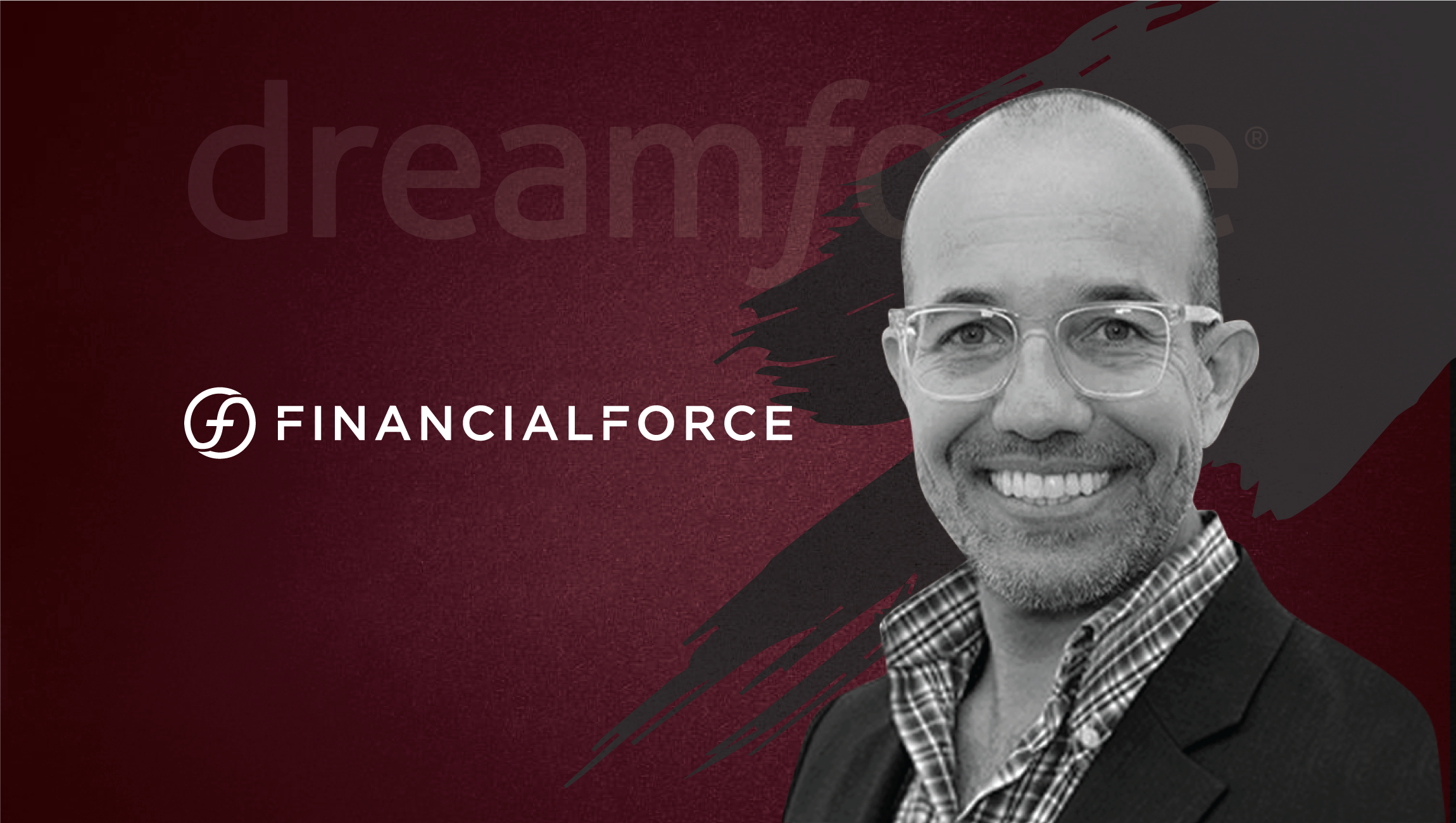 What is the most exciting aspect of being a part of a Cloud Tech company?
My favorite thing about working in Cloud software is the pace at which change is happening. It continues to accelerate but we also see new, innovative companies entering the market across sub-sectors, including B2C and B2B, and across an entire organization. This pace of innovation is particularly exciting and unique for Cloud technology because it doesn't always happen in product-driven companies.
What were the biggest attractions and highlights at this year's Dreamforce?
The overall community is the attraction.
Salesforce creates a unique experience for everybody at the event and although there were 200,000 attendees, it was amazing to see how Salesforce creates a community, an individualized experience and brings people together. 2018 was a consumable, authentic and meaningful experience for their audiences.
I loved seeing how many new companies joined the Salesforce ecosystem this year too. We are a proud Salesforce partner and passionate for Einstein but it's always useful and fun to see all of the new innovation around it – the quality of its analytics and how partners are pushing the platform's envelope is really exciting. 
As a leading CMO, which other events in the calendar year are you particularly interested in?
There are three hot events right now.
Recommended: Scale, Drive Revenue, And Win With ABM – 3 Lessons From B2BMX
AWS Reinvent. Everything that Amazon is doing now is red hot. They are just thinking very innovatively. As one of our customers and partners, they run all of their professional services on FinancialForce so we're excited about what they'll announce during ReInvent.
The other event that I think every CMO thinks about is Web Summit in Lisbon. We absolutely will have a presence there. TSW in Vegas, and our next event called Community Live, which will be held in 2019.
These are all great events that will feed innovation, tell great creative stories, and introduce impactful products.
How do you think the Adobe-Marketo deal will influence the technology industry?
Marketo is is a great marketing platform. When Vista took Marketo private, the company streamlined and created more value for its customers. Marketing technology is very complex and crowded so when you think about how Marketing Technology needs to be used, you often think about big companies and marketing platforms to streamline.
Adobe is really a great one so their acquisition of Marketo is really smart. It not only brings their (Marketo's) audience really great marketing technology, but it enriches their platform to make it easier for marketers.
How do you consume all the information out there on marketing and sales technology?
There is a lot of information in marketing. In fact, I think marketing continues to get more complex. It used to be that the marketing art was about how do you tell the story, how do you build it…you know, everyone wanted to build a Super Bowl ad. And then I think it went completely to the other side of the pendulum when we started to utilize social marketing and digital marketing and analytics.
CMOs today really have to make sure that they are both listening to the communities that are building Marketing Technology, but also marketing leaders who have their fingers on the pulse of what's going on and what's the best integration point between the creative and the science.
Which Marketing and Sales Automation technologies are you most excited about?
There are so many, but if I had to simplify it to three; one is called Triblio. We use this product to showcase and present content that is audience-specific in emails, and our FinancialForce.com website.
Read More: How To Survive And Thrive In The Services Economy
Engagio is another great technology that we use. They help us think about the engagement process of account-based marketing and how we do the best job of both engaging and then measuring engagement across the entire customer lifecycle.
Showpad is a great technology that we use to share our content with our sellers and our Business Development Reps (BDR) teams.
How do you utilize marketing attribution technologies to justify ROI on your spec budget?
Marketing ROI is a hot topic. From my perspective, as a CMO, there's really two things that a CMO gets judged by, scale and pipeline.
With scale you can measure through press and the awareness level that a company has, including the recognition that they have in their target markets, where they're going and specifically in target geographies that they're going into.
Second, the other one assessment is pipeline. Pipeline is a really tricky one. It relies on the brand and the above.
Overall we justify ROI by reviewing PR, NPS scores, surveys and anecdotal feedback from our sellers and partners and markets.
We ask ourselves: "Do we have the awareness level that we need to in certain markets?"
Pipeline, it's not only creating a new pipeline and bringing it in. It's actually monitoring and managing that pipeline all the way to a conversion, and a win for our sellers.
What message do you have for your fellow CMOs in the industry when it comes to working with Intent Data?
The tricky part about Marketing is that the audience is constantly changing. And when you think about intent, that intent can get changed by a lot of different parameters. The art and science of intent data is innovation and understanding the audience and all of the different influences that are hitting them. They might be getting too many emails.
We all get too much junk. We all read what's going on in the news. We're all affected by other marketing and other noise that happens in our streams. So that intent data, although very important, I try to look through it and think about what exactly is going through the minds of my audience.
How do you cut through all that noise to be able to deliver a meaningful, relevant and authentic message?
An inspiring quote from past editions of Dreamforce that you have ever heard?
I was sitting on a panel with one of our customers talking about how he was innovating business.
He's the CFO of PeopleStreme out of Sydney, Australia.
He said,"Because I'm on Salesforce and FinancialForce and I've completely blurred the lines between front and back office, I am no longer in the 'no' business when my sales and product teams come to me and want to offer a new product. I am in the 'yes' business. And I can do it in minutes. Not days, months, or years. And that gives me a great ability to drive top-line growth and empowers me as a CFO."
Thank You, Fred, for answering all our questions. We hope to see you again, soon.
Certain is the leading enterprise event automation platform that helps data-driven marketers and event professionals integrate rich buying signals and attendee insights into omnichannel marketing campaigns to improve sales and marketing results and deliver event ROI. Certain partners with hundreds of companies across tens of thousands of events with millions of attendees.
Bill Hu joined Certain from Layer––a provider of messaging software for apps––where he served as the vice president of sales, leading go-to-market sales strategies and tripling revenue growth in one year. Before Layer, Hu was the regional vice president of sales at Gainsight, and director of sales for cloud-based sales performance management software company Xactly, where he led the highest performing team, helping drive company growth from $5M to $75M in annual recurring revenue. As a first step in moving Certain's sales strategy forward, Hu plans to expand the sales team and welcome additional enterprise representatives to build the organization to scale.