SalesTechStar Interview With Tudor Goicea, Chief Revenue Officer At TypingDNA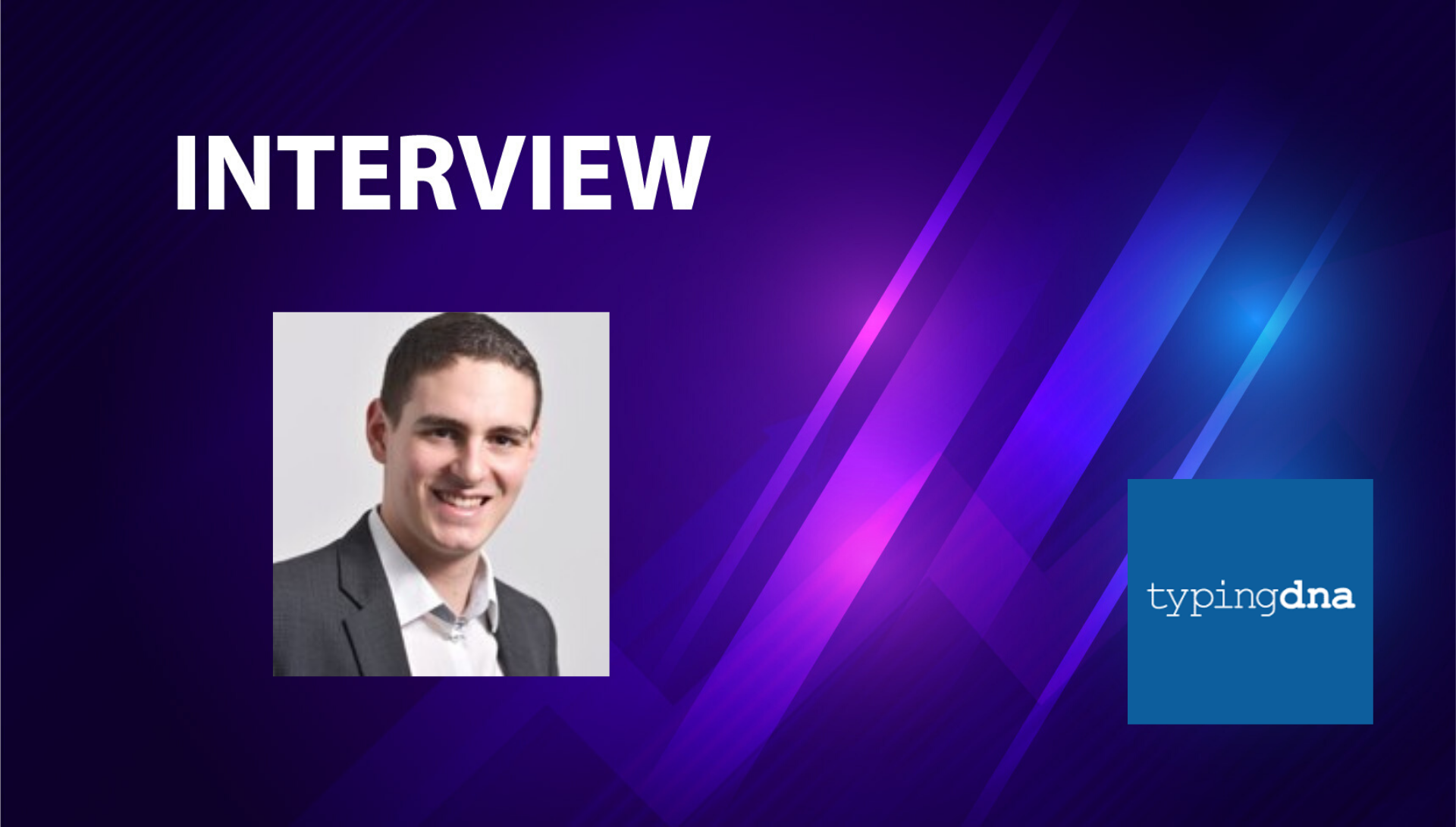 Head of Sales and Strategic partnerships at TypingDNA – Tudor Goicea joins us in this SalesTechStar interview to talk about his experience in technology sales and to share proven tips and tricks that can help sales people further optimize their efforts. 
Catch the snippets:
______
Can you tell us a little about yourself Tudor, including your hobbies and what a typical day at work is like for you?!
My educational background is in business administration, but I always had an affinity towards technology. Quite early I started exploring machine learning, more specifically unsupervised learning in the area of natural language processing. I was always drawn to tech start-ups, so I joined the VC world for a while, before deciding that it was time to get on the start-up train myself and joining TypingDNA. That has been quite a ride so far, and our greatest challenges still lie ahead of us.
On the side, I do like reading about business and technology, hiking on mountains (or walking in parks since they are much closer :D).
My day at work knows no routine, unfortunately. Given the extensive travelling I need to do for customer meetings, events, hiring for our different offices, it is hard to have two days that are similar. I do, however, try to keep a weekly routine, regardless of where I am in the world. This includes dedicated time for 1-1s with the team, for recurring management meetings and for recruitment.
What are the top 5 Revenue Generation Strategies you'd advice Tech teams to swear by?
Build a sales funnel early on, and focus on feeding it with as many quality leads as possible. Define steps that are reasonable for your business (without exaggerating) and focus on identifying potential bottlenecks as deals progress.
The holy grail of any start-up is to achieve predictable revenue growth, so a sales model which is scalable and repeatable is a must
Grow on the shoulders of giants – acquiring new business through strategic partnerships is a great way to increase revenue without increasing sales team overhead.
Industry conferences, meet-ups and similar events are great for meeting new customers and sharpening up your communication skills. They will also help marketing teams be grounded in the landscape and reality of the market you are active in.
At some point, you will (hopefully) start having multiple leads and deals. At this point, you will probably feel overwhelmed by the amount of work needed to keep up with your sales funnel. At this point, you should focus on shortening your sales cycle by standardizing processes.
Can you tell us about some of your most successful sales/revenue generation campaigns from your professional journey so far?
In the early days of a start-up, it is important to focus on warm introductions. What you are lacking is the trust of the market, as well as very deep knowledge of your customers. Warm introductions will establish a much friendlier setting to explore how you can help your customers. As you progress, you need to focus on alternative methods that are more scalable, like inbound marketing as well as  some outbound efforts. However, the one key lesson that many start-ups learn the hard way, is that customers are not organizations, they are people in organizations. That means, even if a great fit between your product and the needs of an organization is obvious, you need to get the people on board. That is a lot harder and a lot less obvious than it sounds.
According to you, what are the top 5 things that Business Development teams/BDRs should always keep in mind when planning an outreach for a new Tech tool/new Tech Product?
Here are a few take-aways that are mission-critical for outreach campaigns:
DO NOT SPAM people. Few things are more valuable to a tech company than their domain name and reputation, so treat it carefully. Only reach out to people who are highly likely to need your service. This needs to be a highly targeted approach, a "let's see what sticks" approach is likely to carry a huge cost.
Personalize the content to your audience. Prospects can very quickly feel whether you are sending an automated template to everyone. Highly tailored content will deliver a much higher reply rate.
Know your numbers! This holds for more than outreach, but always be analytic about it. Measure reply rates, open rates, meeting rates and so on. This way you will be able to massively improve your content and strategy over time.
Make smart use of technology. There are plenty of tools out there that not only automate outreach, but help you track your results in real time.
Always have a plan beyond the initial outreach. It is a good idea to have a good sales process established (of course, you can iterate as you go). Getting a reply should not catch you off guard, and you should always be quick to reply back.
Read More: SalesTech Star Interview With Peter Gillett, MD & CEO, Marketpoint & Zuant
What are your thoughts on the future of B2B sales/salestech? How do you see salestech play a role in the evolution of the typical B2B/sales professional?
I am an advocate of any salestech products & services that help the sales team achieve scalable, recurring business and shorter sales cycles. We also test new tools quite often on our team at TypingDNA. It is near impossible to keep track of the activity of one salesperson, let alone an entire team's activity without a CRM. Both my team's time, and the data which our sales process generates, are invaluable intangible assets, so anything that increases the ROI of the two is something worth checking out. However, all tools beyond the basic ones (phone and email) are there to help improve the process, they will most probably not cure poor results.
Can you tell us about some of the sales tech and tools that you've used to successfully shape your initiatives/campaigns? What are you suggestions for Sales teams when it comes to choosing a SalesTech stack?
I can tell you what we are using successfully at the moment, as well as the order in which it makes sense to purchase them as you evolve.
Always start with a CRM. We use HubSpot, which offers a great progression from free basic functions to paid enterprise functions.
Look into lead generation tools: LinkedIn Sales Nav is a must, and you might want to look at Hunter.io for finding the right emails as well.
As you progress, you might want to up your lead generation game and consider tools like Zoominfo.
A really cool solution you might want to try later on is Crystal, both in LinkedIn as well as in your email provider. It might help take things to another level.
Some of the tools are not cheap, so be careful about your spending. At the same time, you should be able to do great with just the following: a regular email solution, a phone/Skype subscription and a regular LinkedIn account. All the rest should improve the process as you scale, but are not mandatory when you start.
What's your smartest sales/marketing/leadership/team building/productivity hack that you'd like to share with the audience?
Mine is simple: keep a to-do list. There's a big reason this old solution is still around today! Circling back to the previous question on sales tech, one of the crucial elements of any CRM is to allow you to keep a to-do list which is automatized and integrated with your day-to-day sales activities.
Tag (mention/write about) the one person in the industry whose answers to these questions you would love to read!
Alykhan Rehmatullah of Altru Labs is one of the most natural and professional closers I know.
Your favorite Sales/SalesTech quote
Some of the quotes/principles we use at TypingDNA on the sales team are:
Customers come first!
Never overpromise and underdeliver!
Know your numbers!
It's not a problem, it's an opportunity!
Read More: SalesTech Star Interview With Jeff Friedman, VP Of Sales At Phunware
Tudor heads sales and strategic partnerships at TypingDNA. He is passionate about technology, entrepreneurship and social causes and is Business graduate from the University of St. Gallen and at the Erasmus University Rotterdam.