Introducing Copper: ProsperWorks Rebrands as Part of Mission to be the Conductor of Relationships for Customer and People-driven Companies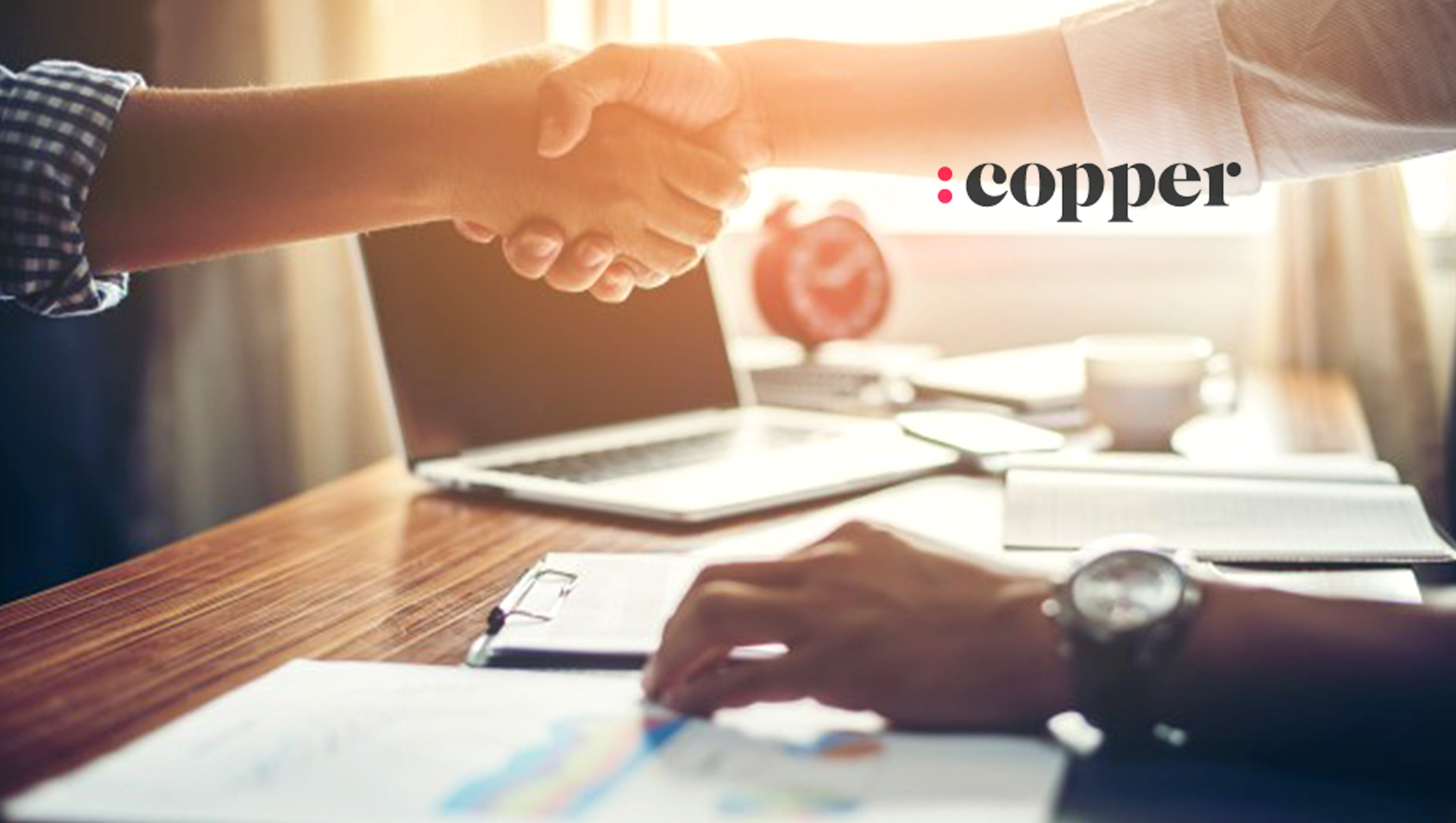 The new brand goes live at Google NEXT, as the company unveils unique vision to reinvent CRM by going native in the productivity tools people use everyday
ProsperWorks, the Google-recommended CRM for today's digital workplace, announced today it is rebranding to Copper. The name Copper was chosen for its timeless quality, clarity and simplicity, and its relationship to energy and currency. The rebrand comes at a time of an industry need for new solutions that match today's digital customer. Today's existing CRM solutions are outdated, but since their creation in the 1990s, customers have changed the way they work, as have the tasks customers are trying to accomplish.
Today's digital workforce isn't satisfied with the rate at which CRM technology is evolving to align with fast-growing technology advancements and user demands. In a recent survey commissioned by Copper, nearly half of respondents think the innovation of CRM should be quicker. The form of communication between teams and customers has shifted from in-person meetings to informal chat apps and mobile conversations. 44 percent of respondents use chat and Slack and 67 percent said more than 40 percent of their customer communications happen over email. Today's workforce wants tools that make their lives easier, deliver a tailored experience and fit within the way they live and work.
Read More: Why Delivering ABM-Focused Conversations at Scale to Your Customers Matters in the Buying Process
In addition, today's customer relationship is no longer the sole priority of the sales team. 63 percent of survey respondents said three or more teammates are involved in fostering customer relationships. Multiple stakeholders, from sellers to developers, have a direct influence on the customer relationship, showing it's a more collaborative effort than ever before. Copper is catering to the modern workforce that demands automated, easy-to-use and design-first tools so that they can focus more on fostering relationships instead of manual data entry like the legacy CRM systems of the past. This rebrand signifies the acknowledgement of a shifting CRM ecosystem in which Copper offers an easy-to-use platform that works instantly and is designed to help teams and businesses build long-lasting relationships.
Read More: Interview with Sandie Overtveld, Vice President Sales, APAC at Zendesk
"Copper is a name that truly represents our vision and plans for the future of the CRM industry," says Jon Lee, CEO and co-founder of Copper. "People are every company's most valuable resource and it's critical that CRM reflects that mindset and provides systems that put people's needs first. Our new company name represents our effort to solve the industry's current challenges with cumbersome technology and to arm people with the tools they need to foster relationships and grow their business."
Copper has been a go-to CRM launch partner with Google since 2014 with its Chrome extension. Over the years, the Copper integration within Google has given users the ability to access critical CRM data directly through Gmail, Hangouts, Data Studio and more. Copper's rapid growth, doubling in employee size and revenue since 2014, is attributed to a new vision for CRM where work happens directly from employees' inboxes. What began as a CRM for startups has evolved into a solution for Fortune 500 companies and Copper is now the No. 1 CRM for creative and media agencies, with more than 900 global agencies using the platform.
Read More:  Real-Time Action Models: AI-Driven Selling's Emerging Evolution
"The narrative in the CRM industry hasn't changed in over 20 years, but the demands of customers have changed rapidly. Rather than the traditional CRM industry language about managing customers, our name change is about transparency, the people, the places they work, and helping enterprise software work for them," says Morgan Norman, Chief Marketing Officer of Copper. "We are continually inspired and pushed by our customers and we're excited to introduce the new Copper and continue transforming the way people work. We're at the forefront of this shift in the industry and really pushing the envelope of the CRM space to focus more on building relationships."
Since launching in 2014, Copper has taken a fresh approach to CRM that places the productivity of its users ahead of the vanity of the application. Copper is trusted by thousands of companies and teams around the world including Google, OpenDoor and MailChimp.
Read More:  CRM Data Is Still Numero Uno Block in Building "the Path to Sales Mastery"